Things of No Interest: More January Painting
I mentioned in my previous post that my challenge for January was to finish painting all my Mice and Mystics pieces. Well, what I detailed out in my last post we all the work put into finishing the base set. Of course, I have the expansion
Mice and Mystics: Heart of Glorm
, so what I showed off was not everything I was doing. Heart of Glorm only has two figures - the hero Nere and the villain Glorm. Nere might be the most detailed of all the mice heroes I've done and Glorm might be the least detailed (it is pretty close between the roaches and Glorm for a lack of interesting details). That's ok, I still needed to finish the two as part of my goal. I had started painting Nere a while ago, so really just needed to finish some detail work on her. For Glorm, I had done him in base colors along with the rest of the bugs, so really just added a small amount of robe detail and a glowing tail effect and he was pretty much done then.
Nere and Glorm
Backside!
Pro Tip (by which I mean total amateur tip) - super fine details like the runes on Nere's stick can be done with a micro pen. Normally I use the micro pen just to dot in eyes, but they work great for runes in books, scrolls and things like this!
Mice and Mystics wasn't the only other thing I worked on nor finished up. I finally got around to finishing up the stupid Sorcerers from the
Crusade of the Forgotten
hero and monster pack for Descent. I have been working on these bozos for a really long time. I really don't love doing 4+ of the same figure, especially when they are a human. Four dragons or wolves - no problem. At any rate, most of the work I had left on the Sorcs was simply details, cleanup or the gold edging I was putting on their robes (there must have been an art mandate at FFG when they started producing the 2nd ed figures, because I swear that 90% of the robes have some sort of edge/border on them).
Gold trim for everyone!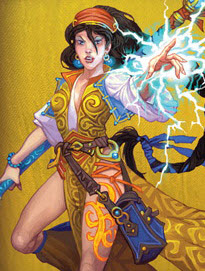 I have only a single hero left in this expansion pack to complete the set. Poor Astarra is the last holdout. Why is she last? Because I really really hate painting yellows. She also has a lot of skin, so she is basically flesh/pinks and yellows. She is on my list to get done in February, but that doesn't mean I'm excited to work on her. Speaking of the my painting goals for February - if you are interested in following along on BGG, my list can be found
here
. I'll update this blog with a report at the end of the month, but doubt I'll do much any reporting other than in that Geeklist along the way.
And of course, if you want to see everything that I've finished painting for Descent - I have a
perpetually updated Geeklist
showing of my efforts. I've mostly been painting the sets in expansion order (though the hero and monster sets don't have a proper place in the order).