Things of No Interest: Painting Descent - May
Over on BGG, the Painter Guild runs a monthly "Challenge List". In April, I finally finished up everything that was left from the Labyrinth of Ruin. I didn't want to start another boxed set for my next "project" so I decided to work on a Hero and Monster pack which can be used in any Descent setting. My May goal was a modest goal of the four heroes from the Guardians of Guildhall expansion (I painted a couple of other items, but just the four heroes for my Descent project). I got them all done along with a couple of other random things. Here are my lifetime totals and the figures I finished for the month:

66 monster figures done
26 hero figures done
12 lieutenants done
27 figures done in 2019 through 22 weeks (my yearlong goal is 1/week)
And here they are: Lord Hawthorne, Mordrog, Sahla, Sillouette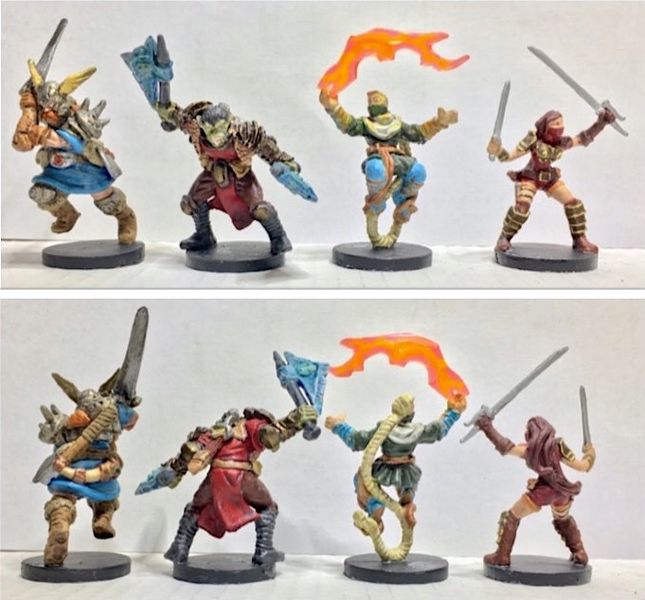 There were a couple of interesting things about doing this set of heroes. First, if people are painting these, they aren't putting pictures out on the web. There was next to nothing to look at for inspiration, so I decided to mostly stick towards the reference art.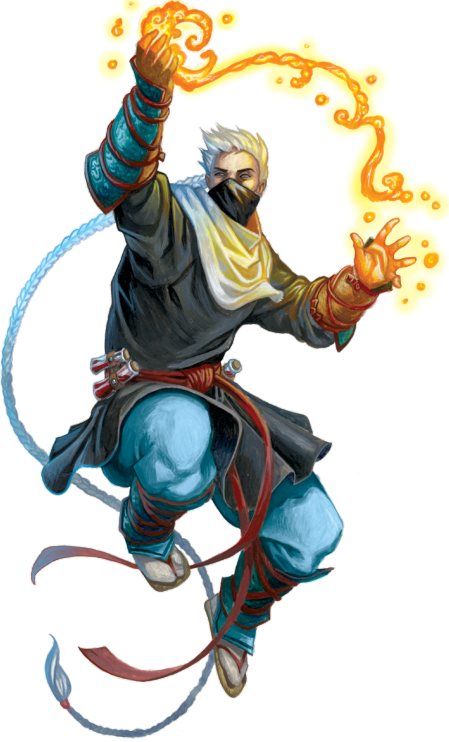 Sahla reference art
The Sahla figure was a bit uninteresting - the reference art was cool, but the figure didn't have any kind of magic effect to paint - just a figure hovering above their braided hair. I decided to grab a piece of translucent red off a Reaper Bones figure and modified the figure to be cooler and frankly, to make sense.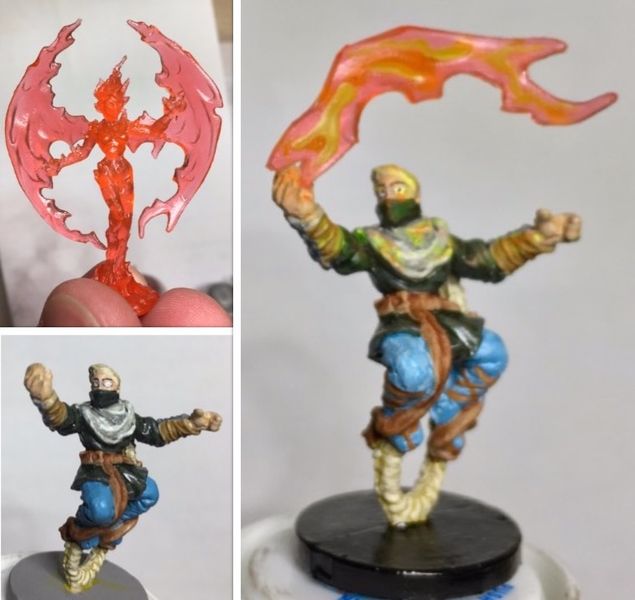 The Mordrog figure is pretty cool, but his reference art sucked. It was like the only paint they gave the artist was mud. I went ahead and kept to the darker browns and played a bit with a couple of newer P3 metallic paints (which I really liked) for his armor. So at least the crappy color scheme got me to try something new. When I finally got to his axes, I didn't want to go with metal. I was originally going to lean towards stone, but while looking for anything that would give me a good idea how to get a good stone weapon look, I ran across a quick video explaining how to do ice weapons, so I gave him a couple of those.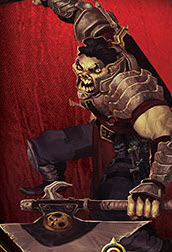 Then there was Sillouette. Her face was a mangled mess (just a bad cast). I slapped some green stuff on her face to fix her up, but rather than trying to figure out her face, I just painted her with a scarf/mask. The last hero, Lord Hawthorne, was nothing special, the only oddity was that nothing I did seemed right. Its like every 4-5 figures I paint, one looks/feels like I just started painting. He ended up ok, but frustrated me for no apparent reason.

Not sure what I'm going to work on next month for Descent. I kind of want to do the monsters from this set, but I want to zenethil prime them first and I'm not sure I want to do that yet, so I may snag another 4 pack of heroes to work on. See you next month.