Things of No Interest: Painting Descent - June
Halfway through the year already! June marks 26 weeks of the year done and gone. Summer is where I normally really fall off, but I've been keeping on, so let's see where I'm at.

Over on BGG, the Painter Guild runs a monthly "Challenge List". At the start of the month, I wasn't ready to dive into a bunch of Descent monsters yet, so I looked to another set of Descent Heroes and Monsters - Treaty of Champions and pulled the heroes to paint. And that was it for Descent. I was only going to do four more figures towards my total.

Except that these were some of the cleanest and more interesting heroes I've painted in a long time. So I blazed through them. Now, I had other figures I was planning to paint along with the Descent figures, but I knocked all of them out too, so halfway through the month, I needed to adjust the goal to add a few bonus items. So I started some stuff, played with contrast paints a little, and finished a set of monsters. At any rate, here are my lifetime totals and the figures I finished for the month for my never-ending Paint Descent Project:

70 monster figures done
30 hero figures done
12 lieutenants done
35 figures done in 2019 through 26 weeks (my yearlong goal is 1/week)
And here are my heroes: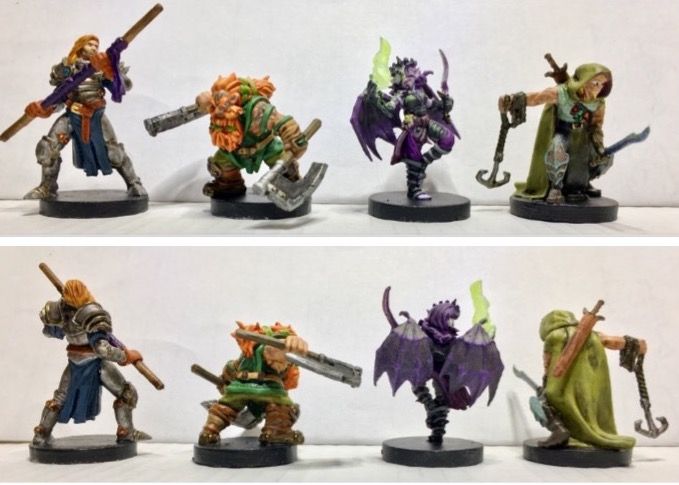 Jonas the Kind , Krutzbeck , Zyla , Grey Ker
Jonas was pretty straight forward, but I was playing around and decided to give him some 5 O'clock shadow, which came out great!
Krutzbeck the dwarf was your normal dwarf-looking dude, but his reference art had him with tattoos, so I played around with giving him some on his arm and face.
The last hero was Grey Ker and while there wasn't anything exciting or special about him, I disliked the pose they had him in. His reference art has his sword out, but the model had him holding it across his body. I had to do some surgery on his arm to change the position. He turned out pretty good looking, except to say he might be a bit drab.
As for the bonus monsters... I decided to do the Dark Priests. I had actually wanted to paint them for a while, but after the great sculpts that were the heroes, these were a mess - just not clean. I had a plan for the robes, but they just never quite looked as good as I wanted. In the end, they came out ok, but honestly, I think I'd have just used contrast paints on the robes if I had to do it over again.
Next month is monster month! I have a whole pile of monsters to do, so we'll see what I can get through. I'll probably work on the Wendigo and then the Skeleton Archers.